Custom career pages that strengthen your employer brand
With Jobylon you can create custom career pages that stand out from the crowd and strengthens your employer brand.
Your employer brand is unique - your career page should be too.
Jobylon's career pages give you full control over how you are perceived as an employer online. We help you design a career page that resonates with candidates and increases conversion rates.
Examples of career pages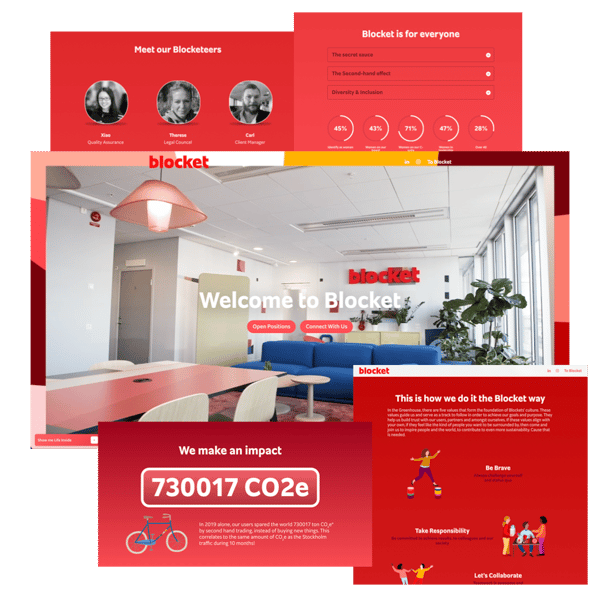 Blocket
Blockets career page showcases who they are as an employer. When you arrive at the site you are welcomed by an employer branding movie and you get the chance to read more about their values.
Elements they work with include:
Facts and numbers from their business show the impact they are having on society.
"The Blocket Way" and what it means - a description of their values and how they work.
Numbers from their DEI efforts. For example, they highlight the fact that 47% of leadership is female and that 28% of the workforce is over 40 years old.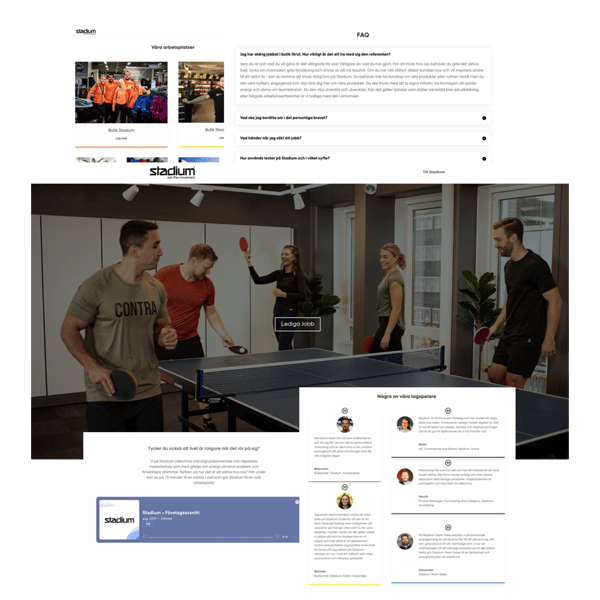 Stadium
Stadium quickly shows what type of candidates they are looking for - people with an active lifestyle who like it when things are moving - which strengthens their awareness in their target audience.
To illustrate this and give life to the story they work with different types of content. Among other things they use:
Two podcast episodes so candidates can hear what it's like working at Stadium and their goals as an employer.
More information about their different types of jobs such as store, office, field, and event. Here everyone gets the information they need to feel comfortable in applying for the right job for them.
An FAQ to quickly answer the most common questions candidates have, give them a great experience, and create a sense of trust that Stadium is the right employer for them.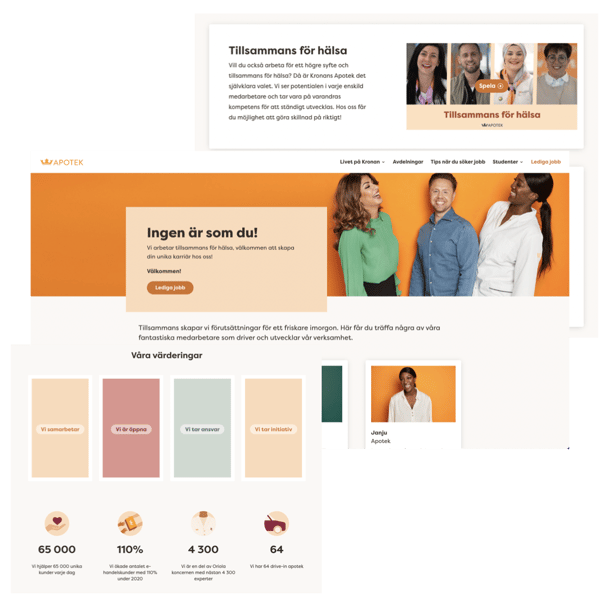 Kronans Apotek
For Kronans Apotek it was important to have a career page that doesn't look like everyone else's. That's why we designed it with them to promote their unique selling points as an employer. Apart from the fact that the entire career page of course follows their graphic profile and brand they also highlight:
Stories from employees from different departments, sharing their experience of working at Kronans Apotek and why they like it so much.
An employer branding video where employees share their views on Kronans Apotek's higher purpose - a healthier society.
Their 4 values, why they are important, and a shorter text about what they actually mean.